Join Our Team
A funeral home plays a unique role in a community. Most people never want to need our services, but families share with us that when a loved one dies, being able to call on a professional team of caregivers to guide them through the process is invaluable.
We are a family-owned business, and we treat each family as if they were our own. Our Core Values of Excellence, Trust, Care and Growth are shared by all associates, and translate into beautiful, personal cremation and funeral services for our community.
To learn more about a career with us, stop by our LinkedIn or Facebook pages.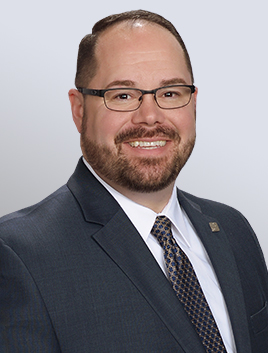 Managing Funeral Director
Shawn M. Smith
Shawn M. Smith, Managing Funeral Director is a native of Escanaba, Michigan. He is a graduate of the Cincinnati College of Mortuary Science, where he received the Homer D. Leffler award for excellence in Funeral Directing. Shawn is a veteran of the U.S. Army where he served in Mortuary Affairs both stateside and overseas. While stationed in Virginia he attended the Virginia Institute of Forensic Medicine and Science where he studied Covert Burial Operations for the Army. While overseas in South Korea he worked with CILHI in an expedition to both recover and repatriate MIA military personnel who died during the Korean Conflict.
He is a member of the American Legion Sullivan-Wallen Post 11, Fraternal Order of the Elks, and the V.F.W. Shawn is especially committed to remaining active within the Green Bay Community. In his spare time Shawn enjoys traveling, the outdoors, spending time with family and friends, and time at the lake in Northern Wisconsin. Shawn brings over 20 years of experience in the funeral industry. He is also an avid Green Bay Packer fan!
Find us on Facebook and Linkedin